Waste Strategy
The Leura Village Association is committed to facilitate the minimisation of waste, by having waste reduction and recycling strategies for events that it organises, and by encouraging and supporting initiatives by businesses and residents alike.
Leura Spring Fair and Harvest Festival
In 2015, with the assistance of Marina Brown (a local waste pioneer and advocate), the LVA established a waste management strategy to minimise landfill at its public events, notably the Leura Spring Fair and Harvest Festival.
Rubbish stations are set up around the event site consisting of three bins, one for composable materials (green), a second for recycling (yellow) and the third for landfill (red). Each site is staffed by a volunteer who provides advice on the correct bin for fair-goers to deposit their waste. This is not always straightforward as coffee cups, lids and utensils that might look plastic may be made of cornstarch or some other material.
All stall holders are encouraged to avoid single-use plastics, and in particular, food vendors are asked to provide compostable utensils and plates.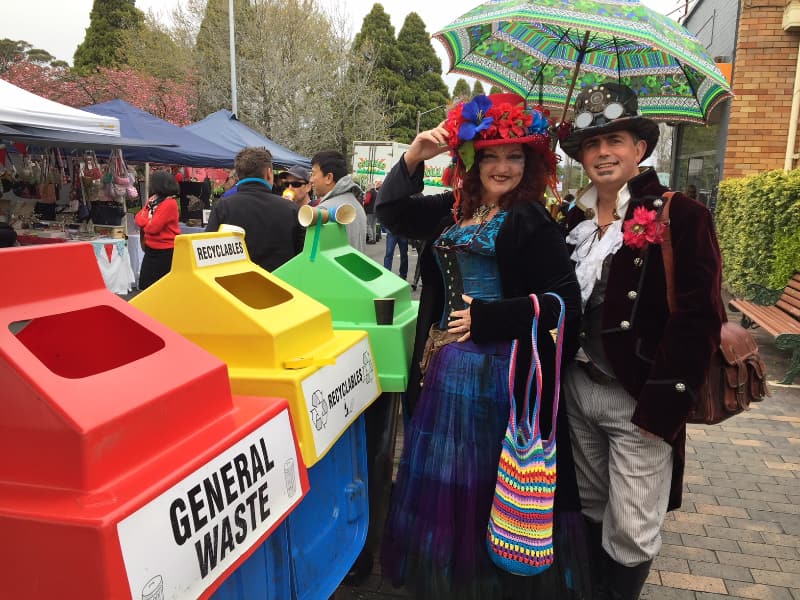 ---
Zero Waste Food Project
This is a partnership formed in 2021 between Leura Garage, Leura Village Association, Blue Mountains City Council, the Institute for Sustainable Futures and the NSW Environment Protection Authority (EPA). Its goal was to explore 'zero-food waste' in Leura's hospitality sector. It began with an initiative by the Leura Garage to purchase a Closed Loop composting system, with EPA grant assistance, and to investigate and measure the outcomes.
This project has been very successful reducing the waste volume by 90%, with the resulting composted product being used in garden applications, and now integrated with the compost bins managed by the GoLlies.
For more information, watch the video Zero Waste Leura and you can read more here.
---
Compost Corner
Building on the Zero Waste Food Project and the Leura Village Association's Waste Strategy, the volunteer gardeners of Leura (GoLlies), together with the LVA gardener (horticulturist), identified a site on public land in the town centre. The weedy and overgrown 'no man's land' in the North East corner of the Council car park has been cleared and is now managed by the GoLlies. Two compost bins have been built.
The green waste resulting from their work in the public gardens, the Leura Garage Closed Loop output, and coffee grounds from the Red Door are processed in the bins. After decomposition, it is returned to the gardens, in place of non organic fertilisers. Previously the green waste was disposed of by Council as part of its green waste services.
This is Stage Two of the Leura Zero Waste project which will provide the experience to refine and develop the processes, and to determine how it can be expanded.
Read more about Compost Corner.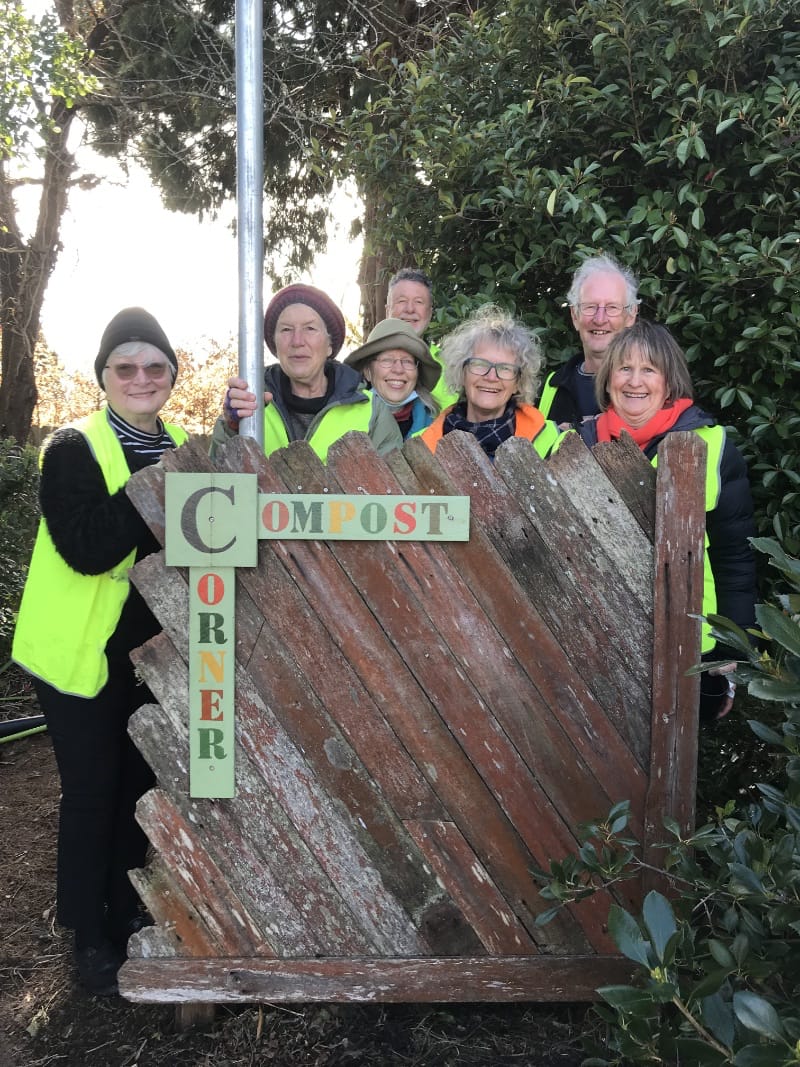 ---
BMCC's draft "Towards Zero Waste Strategy 2022 – 2031"
This was released in April for community input. The Committee of the Leura Village Association decided to make a submission in support of the program's objectives.